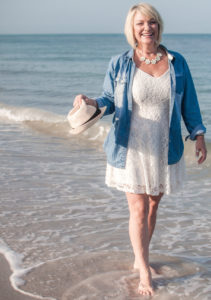 HELLO, AND WELCOME TO NANCYJOSEPH.COM
HI, I'M NANCY.
I specialize in helping women in their 40's & 50's who have drifted away from their husband.  I help them RECONNECT so they can have a fun, intimate relationship and stay Married for Life. 
I have been married for 34 years (in a row) to my high school sweetheart. 
I am an award winning speaker, author, "HAPPY" wife, mother of two beautiful daughters and soon-to-be GLAM-ma! 
NOW TELL ME ABOUT YOU…
Does This Sound Like You? 
You've been together for decades and hoped to have a long, happy marriage, but you've fallen into BORING ROUTINES and feel like you're "GROWING APART".
Do you feel like you've LOST your Best Friend?  You're consistently spending less time together and you feel like 'two ships passing in the night'. 
You don't have much sex anymore.  Your'e afraid your husband is no longer attracted to you and you worry that he might be having an affair.
Lately, you have such a short fuse.  You're angry all the time and your kids and your husband don't want to be around you. 
If any of this sounds like YOU, then I would like to invite you to a FREE Online Training TODAY.
"The 5 Step System To Save Your Marriage…Starting Today!:  How to Restore Your Relationship After You've Drifted Apart" 
You will Discover:
How to RECLAIM that fun, sexy woman that your husband fell in love with.

How to RECONNECT, communicate effectively and keep the SPARK alive!

How to REMAIN strong during major life events:  Job Changes, Illness, Ailing Parents, Menopause & Becoming Empty Nesters.
Once you take the steps you will:
Wake up EVERYDAY excited about your life and your marriage.
Rekindle the EXCITEMENT and PASSION in your relationship.
Get your BEST FRIEND back and your FUTURE together will be fun, fulfilling & satisfying.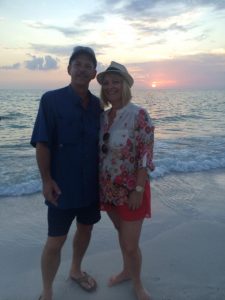 Why work with Nancy?  She's a Relationship Expert – A Marriage Mentor.  Married to her high school sweetheart for almost 35 years (in a row).  She knows what it takes to create, maintain and build a joyful life.  She is a Certified Christian Image Consultant, Professional Makeup Artist & former Paralegal in family law, with decades of experience – from Brides to Ex-Wives and everything in between.  She understands the struggles of motherhood, menopause and most importantly, marriage.  "She speaks with wisdom and faithful instruction is on her lips." Proverbs 31:26
When you wake up 3 feet away from the person you're married to and you feel like you're miles apart….